Prescribing NATPARA to Your Patient
Three Steps to Get Started
Ensure you are authorized to prescribe NATPARA by fulfilling the NATPARA Risk Evaluation and Mitigation Strategy (REMS) Program requirements. To learn more and begin the process, click here: REMS Program
Complete the Patient Start Form. Filling out the form also enrolls your patient in OnePath®, which helps eligible patients with hypoparathyroidism who have been prescribed NATPARA gain access to treatment. A link to download the form and instructions for filling it out are below.
If needed, fill out a Prior Authorization Form.
Please note that the prior authorization form should be provided to the payer to help support the medical need for NATPARA. It should not be sent to OnePath.
How to fill out the Patient Start Form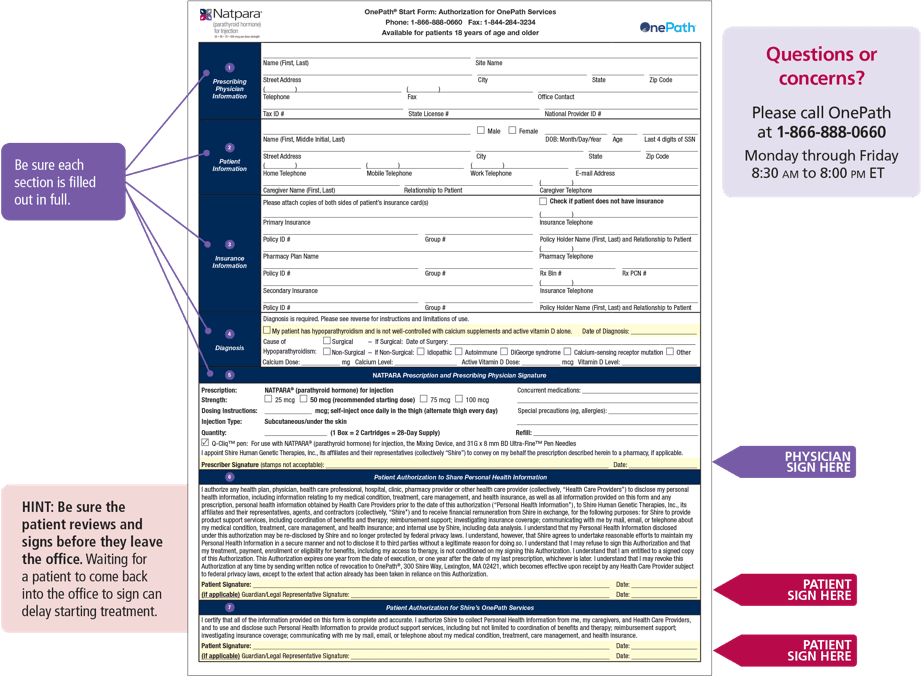 Important Reminders:
It is VERY IMPORTANT that the OnePath Start Form is properly signed where indicated by both prescribing physician and patient
Be sure to have the necessary paperwork in hand when speaking to the patient about a prescription for NATPARA
It may be more efficient to download the OnePath Start Form and fill in any information you have before meeting with the patient. During the visit you can fill in any gaps and sign the form where indicated
OnePath and Shire do not have the ability to modify a Start Form once it has been submitted. If any information or signatures are missing, the Start Form will have to be sent back to your practice, completed, and resubmitted, which will delay the OnePath authorization process
Reference: 1. NATPARA [package insert]. Shire-NPS Pharmaceuticals, Inc.