NATPARA Phase 3 Study Design
NATPARA was studied in a 24-week, randomized, double-blind, placebo-controlled trial in 124 adults with hypoparathyroidism1
Study design
OPTIMIZATION
Run-in
2-16 WEEKS
Calcium supplements and active vitamin D doses were adjusted to target an albumin-corrected serum calcium concentration between 8.0 and 9.0 mg/dL, and 25-hydroxyvitamin D was replaced in patients with insufficient stores.
BASELINE
Randomization
Patients were randomized to either 50 mcg of NATPARA (n=84) or placebo (n=40).
At randomization, active forms of vitamin D were reduced by 50%.
TREATMENT
NATPARA or Placebo
Titration
12 WEEKS
NATPARA was increased by 25 mcg increments every 4 weeks up to a maximum of 100 mcg, as indicated for patients who could not achieve independence from active vitamin D and who could not reduce oral calcium to 500 mcg or less per day.
Maintenance
12 WEEKS
The daily dose of NATPARA established during titration could be reduced, but not increased, in this phase2.
Doses of co-administered active forms of vitamin D and calcium were adjusted to maintain albumin-corrected serum calcium within a desired target range (8.0-9.0 mg/dL) in both arms.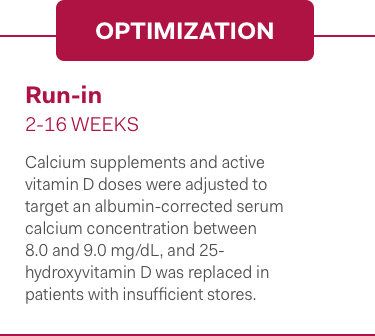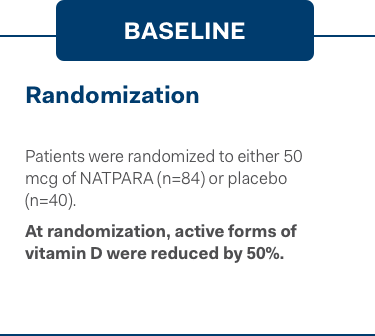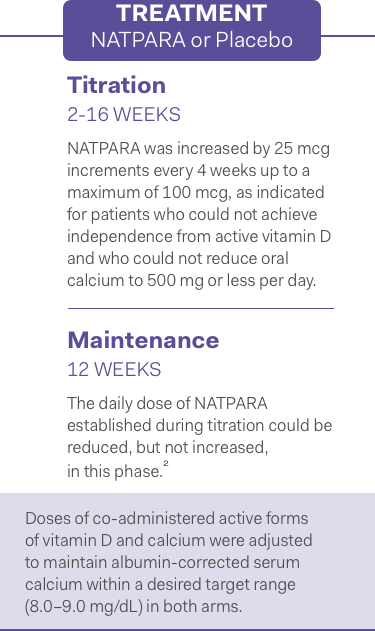 Study population1 (NATPARA and Placebo Combined N=124 Patients)
Mean Age
47 (range of 19 to 74 years)
Gender
79% female, 21% male
Duration of hypoparathyroidism (mean)
15 years
At baseline after optimization with oral calcium and active vitamin D
Daily oral calcium (median)
2000 (1250, 3000) mg
Daily oral vitamin D (median)
0.75 (0.5, 1) mcg calcitrol equivalent
Albumin-correct serum calcium (mean)
8.6 mg/dL
References: 1. NATPARA [package insert]. Shire-NPS Pharmaceuticals, Inc. 2. Mannstadt M, Clarke BL, Vokes T, et al. Efficacy and safety of recombinant human parathyroid hormone (1–84) in hypoparathyroidism (REPLACE): a double-blind, placebo-controlled, randomised, phase 3 study. Lancet Diabetes Endocrinol. 2013;1(4):275-283. 3. National Institutes of Health. Calcium fact sheet for consumers. https://ods.od.nih.gov/factsheets/Calcium-Consumer/. Updated November 17, 2016. Accessed March 28, 2017.