NATPARA Administration Kit Components
The Mixing Device and Q-Cliq™ Pen

NATPARA Medication Cartridges are designed for use with the following:
Reusable Mixing Device for product reconstitution
Reusable Q-Cliq pen(s) for drug delivery
The Q-Cliq pen is designed to deliver a fixed dose and can be used for up to 2 years of daily treatment. The NATPARA Medication Cartridge(s) should be discarded on the 15th day, following two weeks (14 days) of treatment.1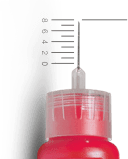 31G x 8mm
BD Ultra-Fine™ Pen Needle
The needle is approximately the width of two human hairs.2,3
Additional supplies
The NATPARA Administration Kit will also include:
Disposable needles
Alcohol swabs
NATPARA Medication Cartridge Tracker
A puncture-resistant container ("sharps" container) is also required, but it is not provided in the NATPARA Administration Kit.
References: 1. NATPARA [package insert]. Shire-NPS Pharmaceuticals, Inc. 2. Sigma-Aldrich Co. LLC. Syringe needle gauge chart. http://www.sigmaaldrich.com/ chemistry/stockroom-reagents/learning-center/technical-library/needle-gauge-chart.html. Accessed April 24, 2017. 3. US Department of Energy. The scale of things – nanometers and more. http://www.nnin.org/sites/default/files/files/scale_of_things_26may06.pdf. Accessed April 24, 2017.